The different age groups or sections in Scouting each participate in a different level of activity.
All sections need a few bits and pieces to show that they are Scouts as well as a few things to set them up for an adventure!
From the night of investiture, your child will be expected to wear uniform. Scouts shirts are only available from the uniform department of the Exurbia Uniform shop, 134A The Parade Norwood or you can visit them online.
The core uniform is a navy blue shirt with the relevant youth section colour across the sleeves and collar, a scarf and woggle. The leaders' shirt is only dark blue.
The section colours are:
Tan for Joeys
Yellow for Cubs
Green for Scouts
Maroon for Venturers
Red for Rovers
For formal occasions the uniform should be worn with stone coloured pants or skirt.
Scout brand stone pants can be sourced from Exurbia or those found in local department stores are acceptable.
Your child will receive their Ridgehaven scarf, woggle and several badges at their investiture, the cost is included in your first account. Please ensure all items of clothing are named.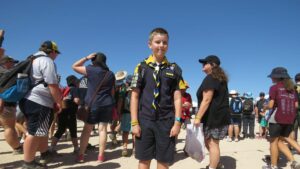 A Dilly bag for sleepovers and camps
Water bottle
Other things that Scouts may need from time to time that can be borrowed from siblings or friends are things such as:
Raincoat
Comfortable backpack
Things for a sleepover
Things for a camp
All these things should be well labelled with the Scouts name and if we are going to a District or State event label them with the Group name.